How Wholesale Distributors Can Stay Competitive with Technological Advances
B2B ecommerce is evolving to look a lot more like business to consumer models. The heightened expectations of the customer experience led by technological advances are  driving businesses in the wholesale distribution industry to make significant operational changes in order to stay competitive. Here are a few trends that are changing the way wholesale operators are conducting business and responding to a dynamic ecommerce environment.
Warehouse automation
Wholesale distributors are transitioning to warehouse automation tools to reduce operational costs, increase efficiency and accuracy, and reduce injuries and costly, time consuming mistakes due to human error. The use of robots to perform warehouse functions such as pick, fulfill and pack orders empowers management to focus on other areas of operations to improve overall efficiency. Other technical tools that are becoming mainstream are voice technology and AI (artificial intelligence). Voice picking enables hands free operation for faster fulfillment processing. Accuracy rates skyrocket while error rates fall dramatically. AI technologies such as cognitive computing and machine learning that can process large masses of data for improved decision making, enables intelligent optimization of order fulfillment.
Delivery information, inventory and order management transparency
As ecommerce continues to grow globally, B2B companies are adopting a consumer-centric approach to managing internal operations and customer relations. Businesses, like end users are increasing their expectations of suppliers and demanding more choices, flexibility, and transparency. Mass customization of goods and services for the benefit of larger markets sounds complicated and expensive on the surface, but to stay competitive suppliers need to consider combining the low costs of mass production with the flexibility of customization to appeal to a wide base of customers. Omnichannel selling that streamlines the purchasing experience across mobile platforms has gone mainstream. B2B customers crave the continuity and consistency that online retailers have been giving end users for years.  Speedy, accurate proof of delivery, digital catalogs and payment systems and realtime inventory data available via mobile devices are tools that an integrated inventory and order management system provide wholesale distributors the opportunity to give their customers a B2C customer experience.
The Amazon Effect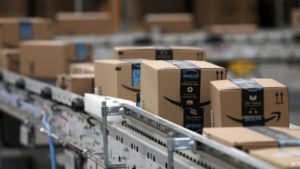 Online powerhouse Amazon.com sold 7 billion products in 2017, delivering to 70% of U.S. households. Their massive network for retail and B2B boasts 500,000 commercial customers through Amazon Business. Respondents to the Modern Distribution Management (MDM) annual industry outlook survey noted, "Amazon (and other web catalog companies) are picking off the high-margin, low-technical-expertise products and decimating our profitability." Price erosion is also a problem facing wholesalers. Another survey respondent comments that larger competitors trying to "dive into our niche market and disrupt pricing when they can't meet their sales goals, which leads to price/margin erosion," and competition from China, which is "undercutting prices based on their government ownership," according to another operator.
As the saying goes, when you cant beat 'em, join 'em. Adopting  integrated inventory and order management systems such as our mobile app and B2B commerce platform and automation tools will help your wholesale distribution business provide the transparency and accuracy your customers seek and help your team make better real time data-driven decisions, save operational costs and improve efficiency and productivity. Secondly, add value to your customers by promoting your depth of product knowledge and expertise, improve customer engagement with forums/safe spaces online for feedback to demonstrate that your company cares about their experience and are committed to constant positive change.