The best invoice App for your sales reps and Drivers
Mobile Invoicing, Sales Orders, and Estimates On-The-Go
#1 Mobile invoicing app for QuickBooks®
Our mobile invoicing app can be used by any company/industry with a need for sales reps and drivers to quickly collect payment over the phone, and can scale to any size business.

With access to product inventory and pricing information, your sales team can quickly and efficiently create estimates, sales orders and invoices in the field. All invoices automatically sync to your ERP integration (QuickBooks®, SAP, Xero, or Excel), insuring inventory and data remain accurate and up to date. This feature is included as part of our Field Sales App, and is $25/month per user.
More On Field Sales App
CLAIM YOUR 14 DAY FREE TRIAL
Download
Download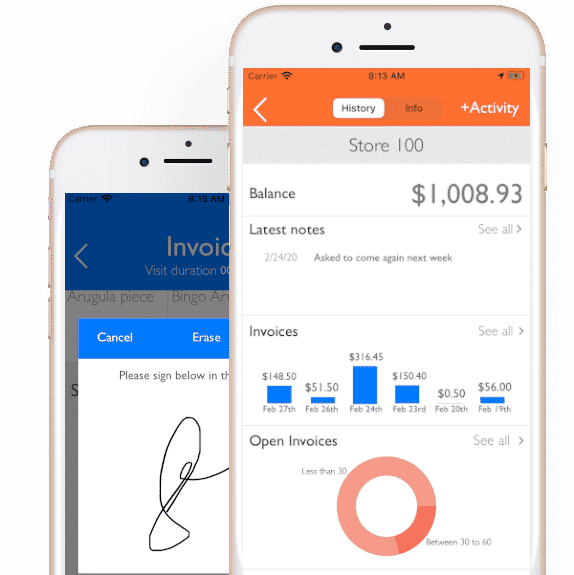 Collect Secured Payments Faster With Flexible Invoices For Reps
With companies struggling to manage billing during Covid, make your business stand out through flexible mobile invoicing for sales reps. Offer convenient payment options (partial or full pay), and set reminders on upcoming due dates, or alerts for overdue invoices. Stop missing payments, and start booking more sales orders!

Pick a time between 15 minutes to 1 hour, for a 1-on-1 free scheduled demo with one of our specialists. Explore the app at your own pace, and get your questions answered.
Advantages Of Our Mobile Invoice App
Automatically Sync Payments
Invoices can be collected by your reps or drivers digitally using an iPhone or Andoid, and automatically updated with your accounting software (ERP) through our two-way sync.
ERP Integration
Works online/offline
Lose cell service? Our app stores data and syncs once connected to the internet, so you can close the sale even while offline.
Supports thermal & full size printers
Our templates are fully customizable for branding and unique categories, and can be printed for a physical copy, or sent by email as a PDF.
Mobile Estimates
Access Payment History In The Field
Guarantee sales reps are updated on all payments and collections. Our app allows for quick customer lookup, with records of past orders, open invoices, and late payments.
Field Sales App
Location Aware Tracking
Track sales reps or drivers with GPS technology available in smartphones and tablets. Granular access ensures only those authorized can access this data.
Route Accounting
Scan Barcodes
Allow your customers or reps to quickly scan an item to find it on your catalog. Lightning fast camera technology scans barcodes in several formats, including EAN, UPC, and QR.
External bluetooth scanners & cases are also supported.
Record Your Digital Signatures
Our cloud-based mobile app guarantees all collected digital signatures are stored on your server for record-keeping.
Once the proof of delivery has been printed, have it automatically backed up to their invoice history.
Customizable Mobile Invoicing & Billing Automation
Two-way sync with QuickBooks®, SAP and Xero.
Product catalog
Browse product images, see up-to-date warehouse inventory and price lists. Access product purchase history.
Delivery
Set delivery terms, add order notes, and capture signatures. Syncs quickly to your ERP software for fast fullfilment.
Returns and Discounts
Enter returns, expired items, gifts and discounts.
Email invoices
Go paperless! Send invoices in PDF format with a fully customizable template
Routes & GPS Tracking
Our software can find the best sales route using Google Maps. Out in the field, transaction location data is automatically captured to ensure compliance.
Learn More About Route Accounting
MOBILE PRINTERS AND SCANNERS
Connect to a variety of
accessories:


DEX invoicing, printers, scanners, and card readers
Thermal, ink, and laser printers supported

For specific models of the following manufacturers please check the printer specifications to confirm compatability with your smartphone deployment and configuration: Zebra®, Bixolon®, AirPrint enabled printers (Epson, HP)
FREE TRIAL
SCHEDULE DEMO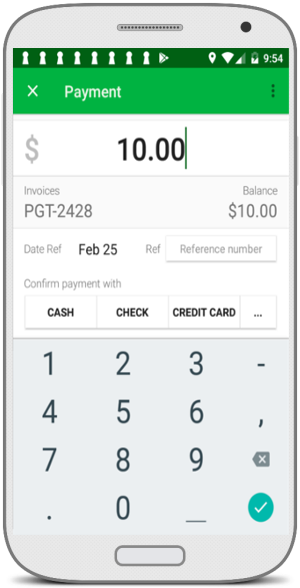 Receive Payments Anywhere
---
Access your customer's outstanding balance and open invoices.
Receive full or partial payments with cash, check or credit card payments. Full support for keyed transactions and magtek card readers.

Connect your gateway account to start taking credit card payments in the field. Supported gateways: Stripe, Authorize.net.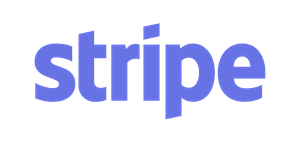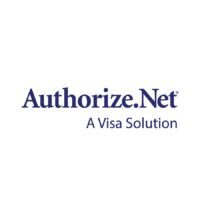 Learn More About Mobile Payment Processing