Take mobile Orders In the field that sync to your portal
Order Taking App For Reps And Drivers
Boost sales through dynamic, customer-centered software. Our mobile order taking app allows reps to; display products on an interactive digital catalog, access customer purchase history to configure re-orders or favorites, or uniquely tailor their purchase with custom pricing and inventory lists. 

Create more accessible orders for reps, and build lasting buyer relationships as a distributor with an inclusive field sales app. 
Start Your 14 Day Free Trial
Book Your Free Demo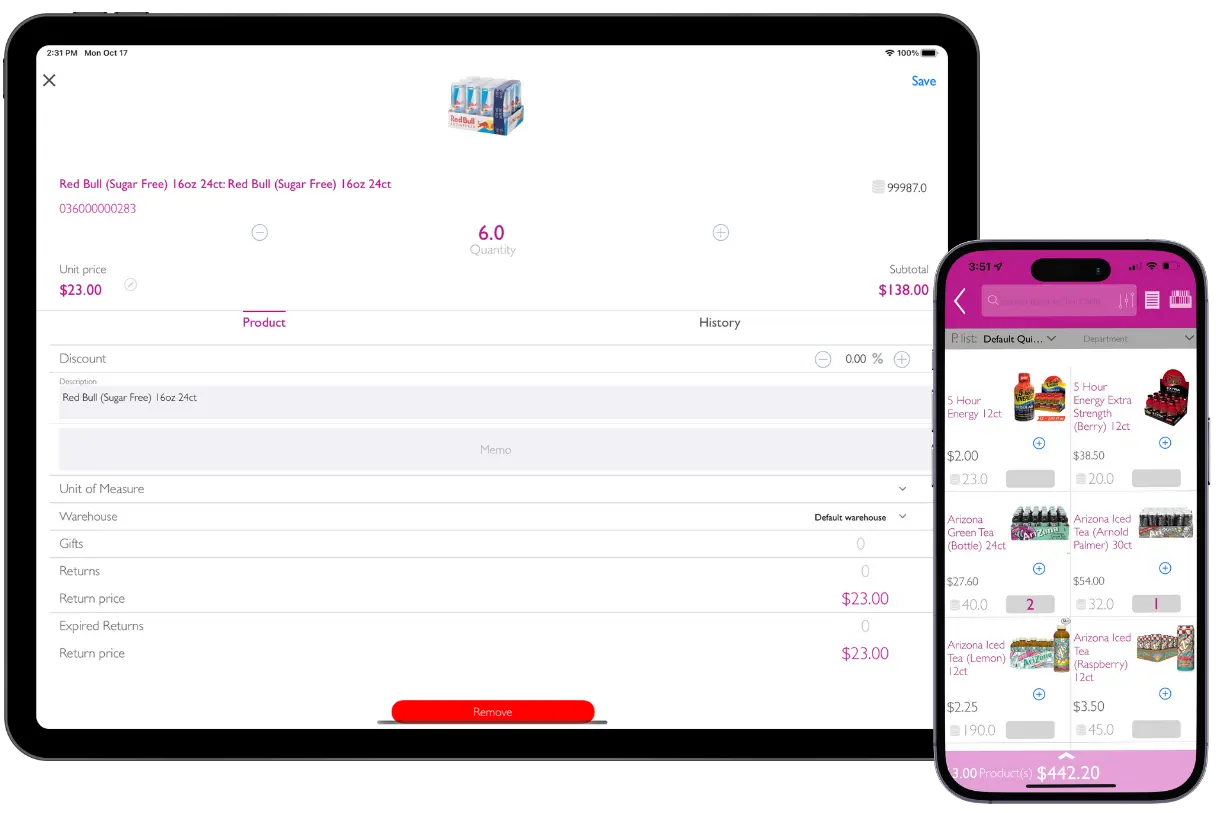 Our Mobile Order App Guarantees An Order Can Always Be Taken
Enable Sales Reps To Take Orders On Demand
Our field sales app features the most simple and efficient way to conveniently record orders in person, then sync them with the admin portal to create a completed sales order later. With offline functionality and an omnichannel product catalog, sales reps will always be ready to make a sale.
Customer-Centered Catalog
Prioritize sales by custom tailoring your catalog to fit different buyers' interests. Create and assign custom pricing and inventory lists to target specific customers, or use lists to run promotions and discounts as incentives.
Accessible Customer CRM
View customer order histories (including favorites and reorders), invoices, payment activity, and lists of inventory on backorder that can't be sold. 
Offline Functionality
Reps can freely take orders and create updates to customer data without internet connection. When connections is restored, all data entered will save and sync to the account. 
Planning & Tracking
Track sales rep positions in realtime with GPS, and plan sales routes with order workloads for insights on projections for daily scheduled operations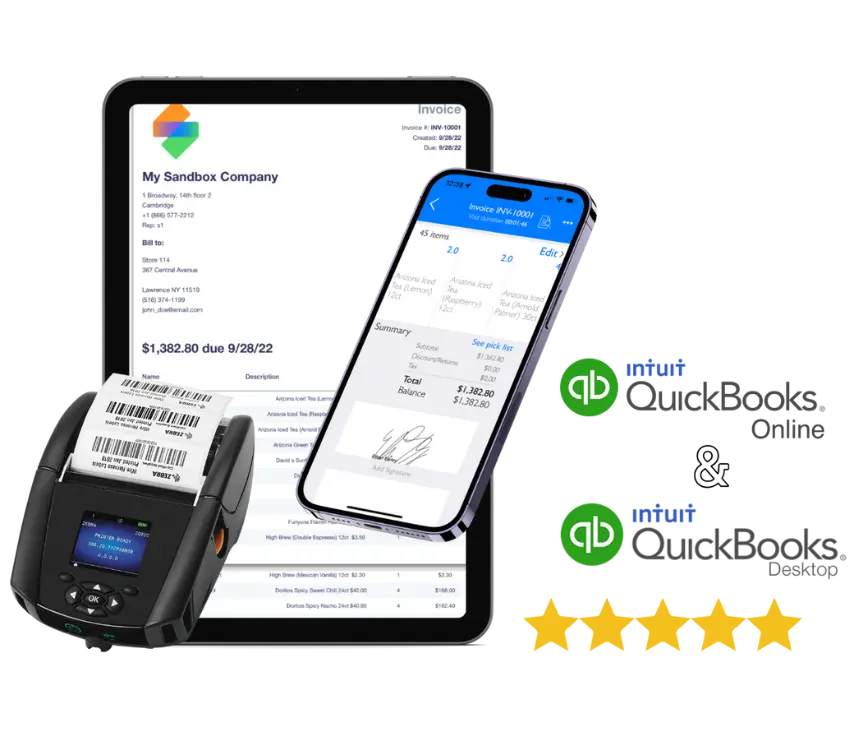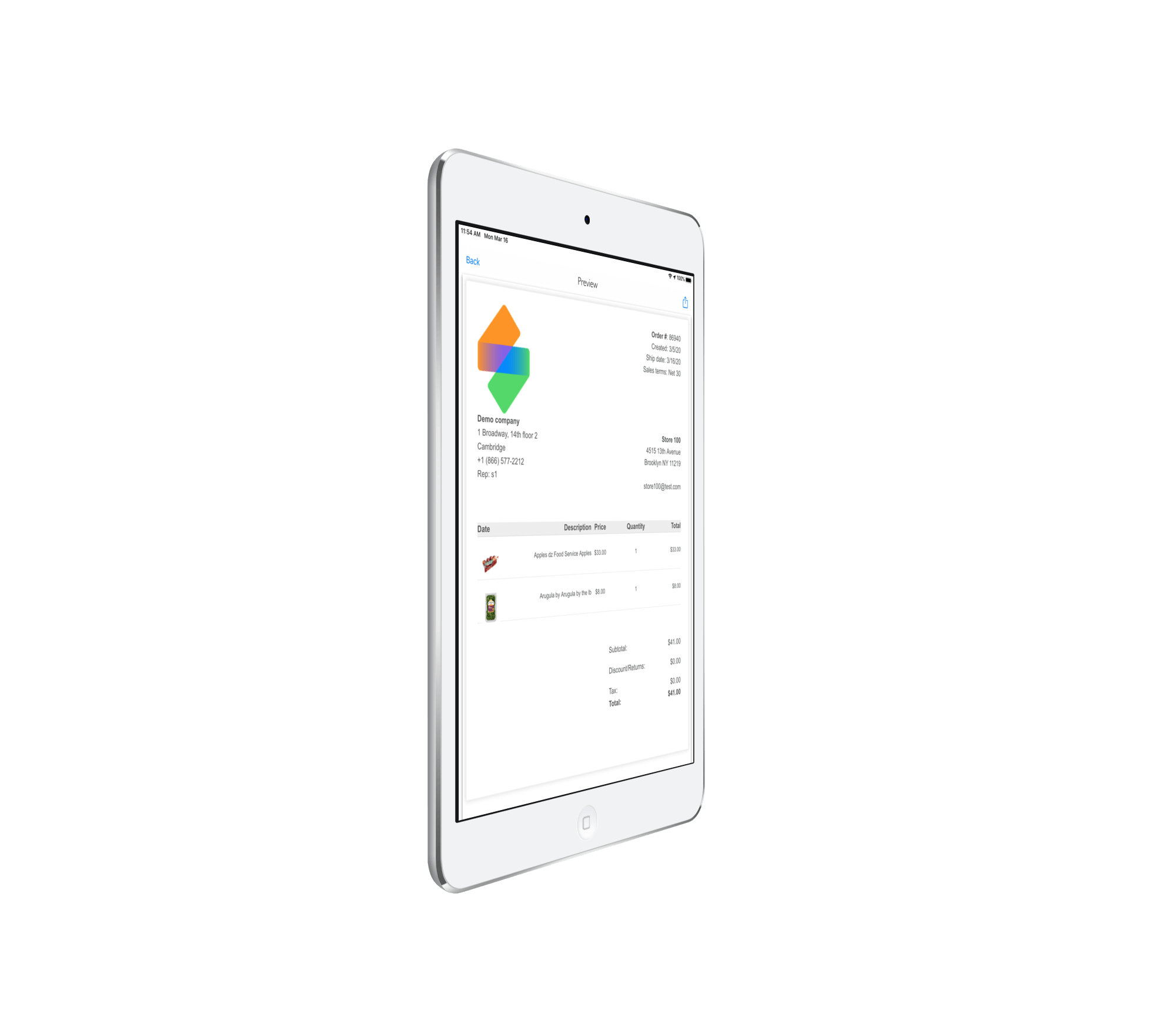 Fully Customizable Mobile Invoice Templates With Printing
Create templates for mobile printers, full letter size printers or PDF to be sent by email.

Supports 2in, 3in, 4in mobile printers and more.
Detailed product information
Access 

price lists, inventory, and history

 data.
Drive better negotiations

Whether it's your truck inventory or multiple inventory sites, inSitu Sales provides real-time access to product availability.  Custom price lists for your customers are loaded automatically from your accounting software or ERP.
Power your business with the best field sales order app
No more calls to base to check inventory or ask for order forms. With InSitu Sales, your field sales team can easily enter, modify, and submit orders to your specifications – with native compatability with QuickBooks, SAP B1, and Xero. Streamline your business operations today!
SIGN UP FOR A DEMO