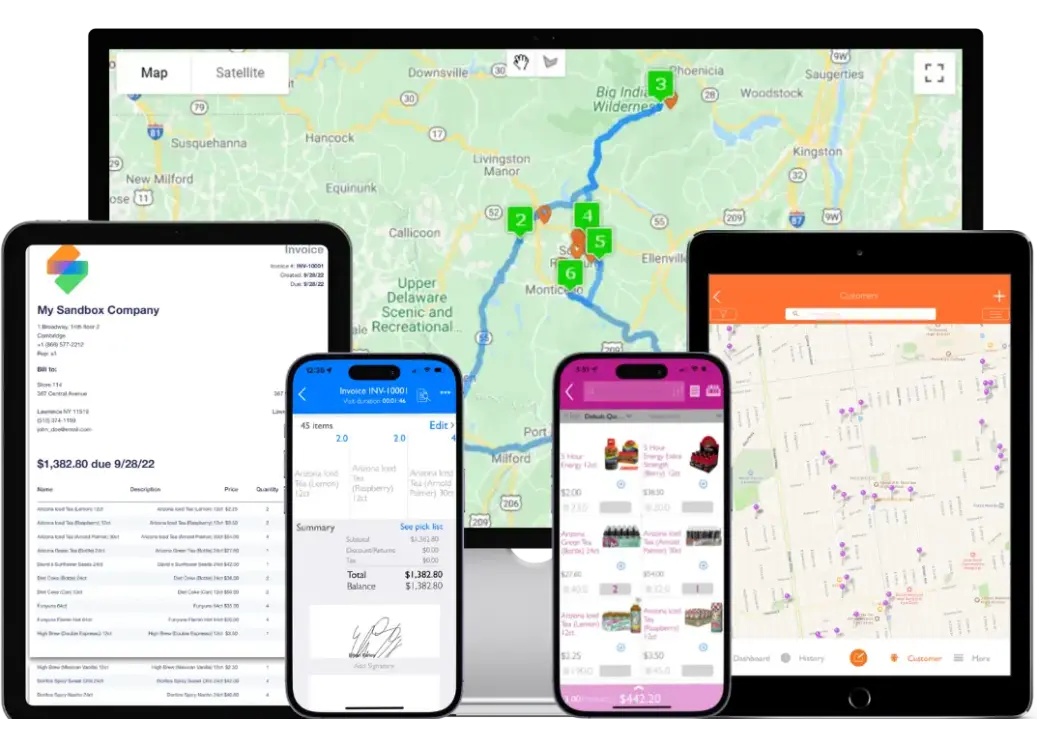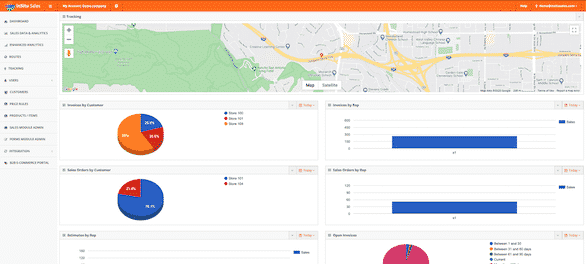 Core Functions Of The Field Sales App
While our app is truly an 'all-in-one,' and can be customized for a variety of tasks, inSitu Sales maintains a focus on assisting wholesale distribution sales reps with field sales operations from start to finish.
Create Mobile Invoices With Printing Or PDF
Create invoices that can be printed or emailed as PDF. Use customer info to automatically create a custom template in seconds.
Mobile Invoicing
DSD Route Accounting
Optimize delivery routes to either maximize speed, or minimize driving costs. Boost transparency with real-time GPS tracking and proof of delivery.
DSD Optimization
Mobile Order Taking
Take orders with a user-friendly product catalog that allows barcode scanning and tracks purchase history by product, brand, and location.
Order Taking
Process Digital Payments
Accept payments electronically with credit, Stripe, or Authorize.net. Receipts can be printed or shared.
Payment Processing
Track Sales Reps
Track sales rep activity by requiring 'clock-in & clock-out,' and use the real-time GPS with timestamps to measure time per sale on location.
Admin Site
Use the inSitu Sales admin site to manage the data and lists your reps can access with their field sales licenses. Our portal gives admins full control over how they'd like sales to be conducted, and what info is used.
Route Management
Assign optimized routes on a calendar to reps according to whether you want one-way, round trip, or to avoid highways and toll roads.
Manage Inventory
Upload inventory lists from Excel, or from ERP sync. Products can then be assigned to customer lists, or specific customers. Enter barcode numbers for quick scanning.
Set Pricing Rules & Promotions
Incentivize purchases with pricing rules and promotions depending on volume, cost, etc.
Easy Integration Sync
Easily integrate your ERP to sync over relevant data, and have our software return data back to the platform.
Route planning and optimization
One-way / roundtrip
Bulk geolocation of customers and sales / delivery route planning. Optimize up to 100 stops in a route.
Book Your Free Demo Now
Features Of Our Mobile Field Sales App
Access to information is key. Granular controls let you customize what each user can see, keeping team direction linear and efficient.
CUSTOM PRODUCT LIST AND ACCESS CONTROL
Limit access to products for each sales rep as well as their ability to collect payments, make invoices, place orders or create estimates.
PRODUCTS LIST PER CUSTOMER
Not all customers purchase all your categories. Limiting what can be sold to each customer will help your reps focus on making the sales you want.
MODIFY RECORDS
Control what can be updated in the field. A popular update rule: Restrict invoice modifications 5 mins after being created.
CUSTOMIZE THE LOOK AND FEEL
Change the admin site color palette to reflect your company image. Add logos, custom invoice templates and product images.
AUTOMATIC TERRITORY MANAGEMENT
Each sales rep gets a dashboard that makes it simple to see who they've already visited and who they still need to work on. Sales territory management software made easy!
WHOLESALE ECOMMERCE PLATFORM
Changes sync across the entire inSitu Sales platform, so orders your reps take automatically adjust your B2B eCommerce portal. Take sales anywhere and be confident in your inventory.
Online Custom Template Editor
Custom PDF Templates For Mobile Invoice Printing
Customize your PDF invoices. Our software lets you brand your invoice, in addition to the email specifics. Mobile printers like Zebra or Bixolon are also supported. Simple but powerful – use our standard template, or customize your own in the admin dashboard.
More On Mobile Invoicing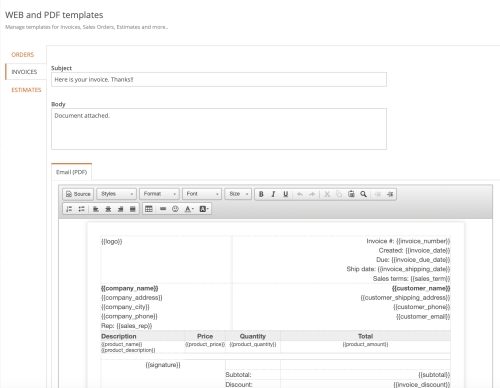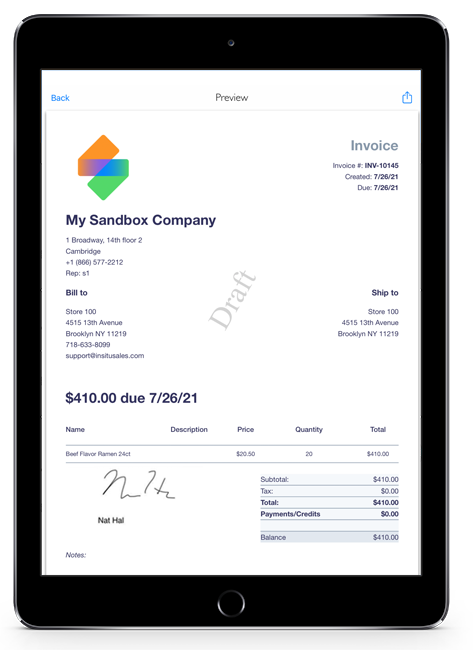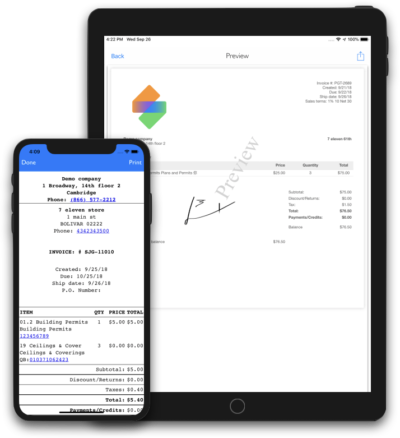 Real-Time GPS Sales Rep Tracking
Real-time location of customers, drivers and sales reps in a map. Pinpoint where your field sales invoices are being created.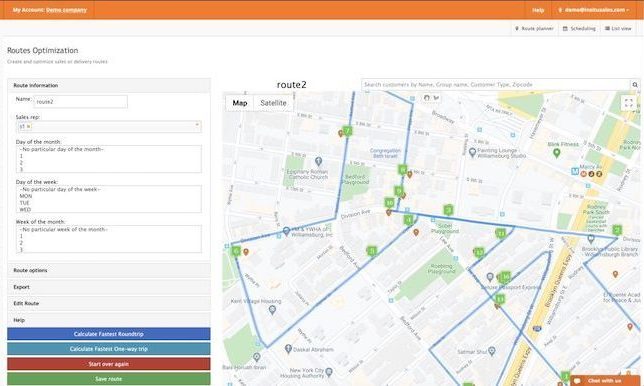 Get access to real-time field sales rep tracking. InSitu Sales brings visibility into the minute-by-minute changes in the field, so you can optimize your field sales operations sooner.
Enhanced Analytics For Detailed Reporting
Use Sales Analytics To Build Real-Time Reports
Optimize your outside sales team. Our standard reporting suite offers visibility into your sales data and performance in the field. Need even more power? Enhanced Analytics provides custom reporting, pivot tables, and more.
More Info On Sales Analytics