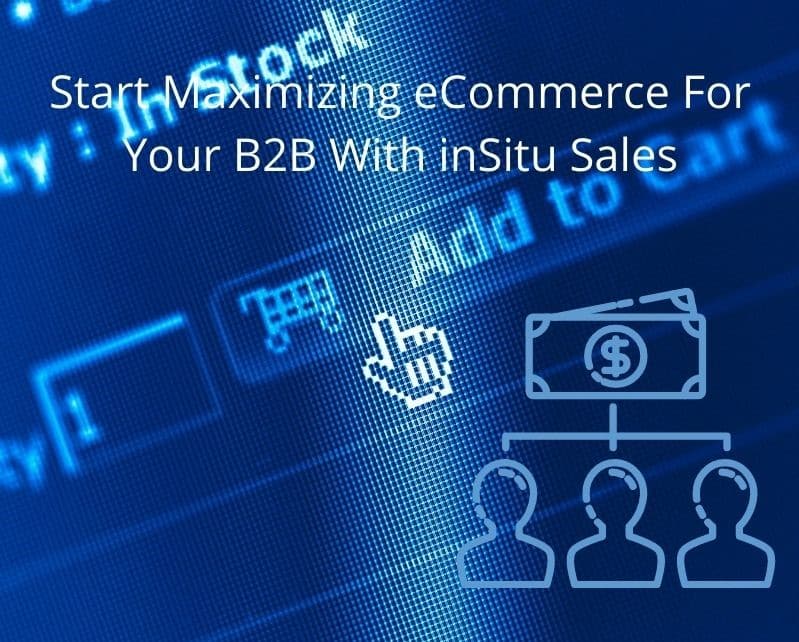 3 Tools To Leverage B2B eCommerce Demand After The Pandemic
B2B eCommerce Market Growth
Digital interactions have become at least twice as essential to the sales process as they once were. In fact, most B2B infographics show a clear preference for digital sales, and an understanding that it's actually the buyers initiating this push. Today, we're going to review how 3 tools we feature at inSitu Sales can maximize your B2B eCommerce sales.
Luckily, this isn't a contest of who can have the most cutting edge or high-tech sites. Instead, it's an incentive to understand the decision makers behind purchasing, and figuring out what features or information they need to be able to buy.
McKinsey recently released a series of surveys studying the trends and general beliefs of decision makers amongst B2B sales during the pandemic. The McKinsey global B2b decision maker study indicated that only 20%-30% of buyers will want to interact with sales reps in person after Covid, and 97% would prefer instead to utilize a 'digital self-serve model'. Keep the 'self-serve' part in mind, as it's central to the funnel.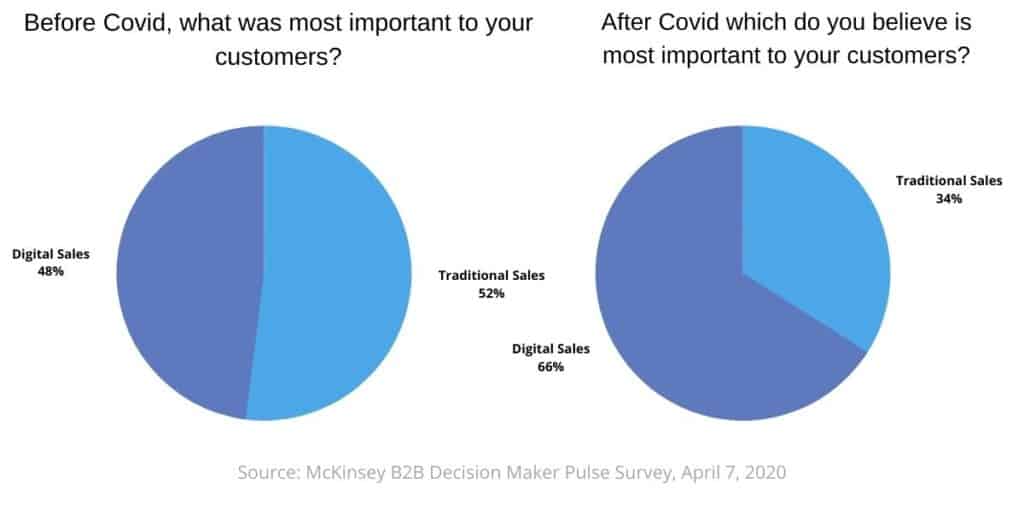 We can break this down to mean that buyers are seeking full autonomy online, and would like to be able to browse sites independently when purchasing. Now that we have established what is being requested from the supplier, we can look into how we can assist you in meeting this need, with suggestions backed by tested B2B statistic trends.
Your B2B eCommerce Portal
Obviously, the first thing a business needs to compete in the digital sellers market is a reliable portal that can allow easy browsing, and order management. We offer a heavily customizable B2B eCommerce Portal that can scale to any size business, and can be built as simple or complex as needed.
If you didn't already know, a portal is a simplified version of your website. There are plenty of reasons why you'd rather use a portal for your direct sales activities in place of a website. Where a website is large and likely has to meet requirements for educating about your product, your company history, social media, blogs, or other information not directly linked to the sale. Those links could potentially lead interested buyers away from the sale, since the simpler, the better.
Your portal doesn't need any of those things, and can be specifically curated to produce an optimal experience. The portal shines in being a heavily condensed version of your full site, only leaving in what is needed to complete the sale, cutting straight to the call-to-action (CTA). It's also a much more convenient tool for sales reps who are able to quickly reference customer profiles, inventory and pricing information by using it.
Relevant B2B Portal Data & Statistics
Data suggests as much as 80% of B2B buying decisions are based on customer experience. There are some metrics to take into account when considering your buyers eCommerce sales journey, and how they will finalize on choosing your brand.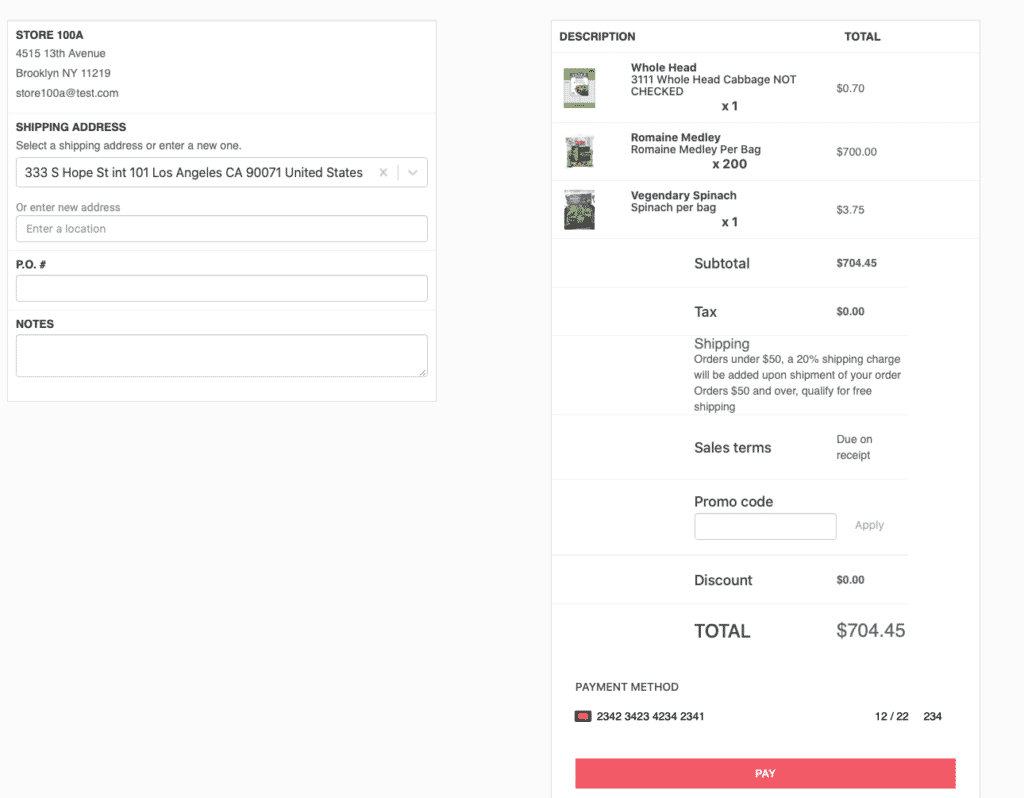 Second, we should look towards the B2C sector as a model guide for how eCommerce is shaping. 80% of B2B buyers now expect the same buying experience as B2C customers. This should be the most actionable piece of information. You shop online already, so it should make sense that you ultimately know what a 'shopper' would be looking for. It can be difficult because your industries are so different, but ultimately the same methodology can be applied to most fields. Some variables may change, but in your head, you should have a rough understanding of the key points you'd want covered if visiting a new site interested in a sale. View it through a shoppers eyes and put consideration into the customer experience.
Lastly, we have to look at directing buyers from point A to point B with as little hassle as possible. 60% of B2B executives directly quoted ERP integration as a top technology priority for purchasing incentives (b2xpartners). This means many decisions take the amount of effort and potential error into consideration. Your B2B portal is less likely to receive activity if they aren't assured of your integrations with accounting systems. It's worth advertising this fact, and staying up to date on doublechecking that the sync is functioning for both parties.
Final Thoughts On B2B Portals
Our B2B software was built with convenience and simplicity in mind from the beginning. The end goal was always that our clients would take the software and fit it for their unique industries. Every distributor has different expectations on what they would like their portal to be, and our software has the functionality to take plenty of different forms to make that happen.
In that same sense, always be looking for ways you can utilize your eCommerce portal as a way to increase value for interested clients. Use your instincts as a consumer yourself to create your distinct customer profiles, then imagine what each of these potential customers might need to finalize.
As long as you know what you need it to do, our support staff can help it meet your customers expectations. If you've already begun a trial, or would like to, we encourage you to reach out and schedule a free guided demo setup to make sure you're getting the most out of our tools. For more information about this subject, please visit our related blog, Key Features: B2B eCommerce Portal.
Digital Catalogs For Your B2B
After finding the platform you'd like to use, the next step is creating a suitable digital catalog to showcase your products and inventory. The basic requirements your product catalog needs to have met are clearly defined descriptions, images, and prices. That being said, you obviously want to commit to more than just the minimum when showcasing your brand online.
Relevant Digital Catalog Data & Statistics
69% of B2B say they expect to stop printing a catalog within five years (b2xpartners), meaning most sales are already leaning towards prioritizing the self-serve model, but why? After reviewing statistics from a variety of studies, the biggest factor seems to be the accessibility of information. A Gartner buyer enablement for B2B study revealed that 77% of buyers in the B2B market found their online purchase to be complex or difficult, adding that 95% of buying groups must rethink purchases as new information becomes available.
We typically relate this information to consumers from the B2C sector, but it turns out to be a typical experience within purchasing managers also. There's always uncertainty within transactions, and with the internet being able to provide a wealth of knowledge about anything, a competitive catalog will have to be properly present and inform to keep customers on the page.
To that extent, 60% of buyers would like 'enhanced search' as a feature, meaning they desire faster, more efficient ways of reaching the products they care about and achieving a wide overview of your products with ease. This largely factors back into the personalization features we spoke about earlier. Our software allows for customization for this purpose, and if you have questions about how you can further create a unique, individually driven experience, please contact our on-site support.
Final Thoughts On Digital Catalogs
Yes, the overall aesthetic of digital catalogs remains important, but with increasing competition, it's become necessary to offer valuable information and resources as an aid. Digital catalogs need to do more than just present, they also should be directing and guiding your visitors through your channels, and towards a confident purchase.
The best performing digital catalogs utilize design choices that align closely with a recognizable brand identity, use active promotions or customized coupons to drive conversions for related/affiliated products, use category filters for more focused product grouping, and allow ERP integration to ensure accurate information and inventory changes with the site's automatic updates on the backend. For more information about this tool, please visit our related blog, The Advantages of Digital Product Catalogs.
The Order Management System Behind It All
Finally, the last piece that makes all of this work and come together, is the order management system, or more specifically, the order entry software. Now, granted this is a bit too much of an overlooked feature to necessarily have unique data or statistics that we can apply to it, as studies cover general trends rather than technical applications.
But, this is still arguably the most important tool you can put your faith in as a supplier. Your choice in order entry software will dictate your productivity, speed, and efficiency within sales. Everything else in your eCommerce operation has to answer to your order management system and the pace at which it responds.
Our order management system allows for real-time access to data for your taken straight from your accounting software or ERP, and as mentioned earlier, the ability to customize the your price lists and invoices. This software will grow as fast as your business will, allowing unlimited leads/customers, and boasting a 99% uptime.