Quick tips for sales rep management using inSitu Sales
The inSitu Sales mobile and web apps empower management teams to manage and guide their sales representatives in the field easily and efficiently. Features such as mobile estimates, mobile invoice printing, and payment acceptance enable field staff to be highly productive with their time spent with customers. Our mobile platforms sync seamlessly with Quickbooks integration so that home office is aware of transactional activity anyplace, anytime.
Our geolocation tools make it easy to locate customers and field staff. Managers can quickly and easily create a DSD sales route based on the locations of their customers and assign the route to employees. Route frequency can be customized by day of the month, day of the week, and/or week of the month. Routes can be calculated for the fastest one way or round trip commutes. By default the route will calculate a driving route and one can opt to avoid highways and toll roads. If reps are trying to avoid automobile traffic in dense urban areas, the setting can be changed to calculate a route for walking or biking. Check out this quick tutorial on creating routes.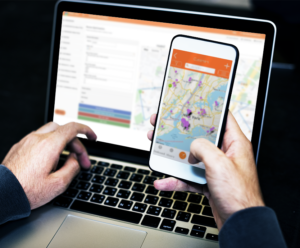 After creating and assigning territories, management can test how efficient the routes are by using the tracking tool. After inputting the required data, a pin will appear on the map indicating the rep's current location and their path up to that point. If one selects a previous date, the pin on the map with drop at the last known GPS location the staff person visited. For easy step by step instructions, read this tracking guide.
Say a member of the sales team realizes that a prospective customer is across the street from an existing one. She has time to drop by for a quick visit which goes better than expected. The customer is so impressed with the ease at which he can view inventory with the digital catalog that he wants to place an order on the spot. Train your salesperson to create a new customer in the app by directing her to this tutorial on creating a new customer.
Next, make sure she knows how to create a sales order, create an invoice, and capture the signature for verification. These are a handful of the many features our apps offer to serve your team and customers better! We hope these tips on our Getting Started section of Help page is helpful! For immediate assistance, start a chat online or call us at 1 866 577-2270.