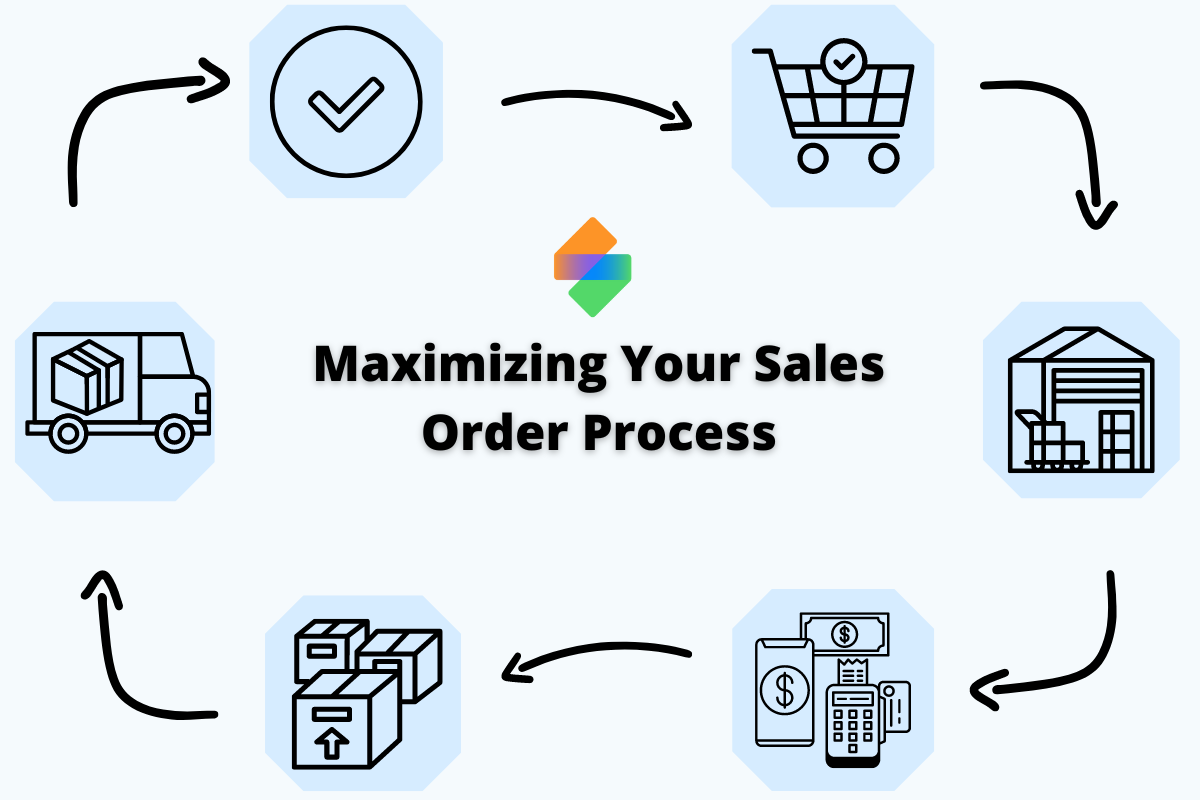 Tips To Maximize Profit With Order Management Software
What Is The Order Management Process?
An order management process describes every step a company needs to account for in order to successfully fulfill a sales order, from placing the order to shipping it out. As competition within B2B shopping increases, buyers consistently look towards fast, convenient, and error-free shipping as a deciding factor in whether a company is well positioned for their needs. Driven by a sudden need to automate and reduce human input, even small errors within an OMS (order management system) can completely disqualify companies as being recognized for a potential market fit.
Reviewing The Order Life Cycle
The order life cycle can be seen in 8 different steps:
Prospective Buyer shops
Buyer places an order
Order is processed
Order pends approval
Order request is checked against available inventory
Order request is sent to a matching warehouse capable of fulfillment
Payment processing insures appropriate payment is received
Products with matching labels are shipped

The Key Objectives For Order Management

By assisting the previously mentioned processes, order management hopes to accomplish 4 main goals:

Improve customer service – In most cases, buyers won't give distributors multiple chances for a sales order to successfully go through, and won't tolerate any slowdowns impacting their own operations. Customer satisfaction is notoriously difficult to measure due to relying on volunteered responses that are often ignored, but sometimes if you're NOT hearing from customers (and provided sales aren't dipping), it means you're doing things right. Fewer steps on the buyers' end combined with a transparent, easy to track process means less questions asked, and readily available answers when needed.
Minimize wasted time between fulfilling orders – Slowdowns and disruptions are cited as being one of the top problems in the B2B market, and businesses with a reliable system in place are in a perfect position to capitalize. Wasted time is typically caused by issues with inventory tracking (lack of available inventory, or insufficient picking & packing system for warehouse management), or payment processing on invoices. These are two areas we specialize in, and where we're focusing even more of our growth in the future!
Adapt to handling larger numbers of orders – Distributors in need of order management fit into two camps in terms of approaching high sales demand. (1. They recognize they simply don't have the necessary resources they'd need to account for inventory, invoicing, packaging, and shipping, and thus put a maximum capacity on outbound orders. (2. They haven't hit numbers resulting from an influx in demand yet, and haven't been able to realize how quickly it will overwhelm their team and possibly damage relations. Once synced with proper management software, if there are problems at any stage, sales managers are able to use the information provided to narrow down where the setback occurred, and what new assets or teams should be invested in for future accommodation.
Successfully implement automation – The path towards increasing profit margins, scaling distribution, and opening up windows for innovation revolves around achieving automation. Sales orders have many stages before completion, but having multiple hands on it throughout its progression is wasting valuable time and money. Sales reps in particular are best utilized when they're acquiring new leads and developing the pipeline, not addressing monotonous data entry. Automation drastically reduces the number of required touchpoints, removes any margin for error, frees up valuable manpower for higher level work, and establishes routine schedule.

How To Improve Sales Order Management With inSitu Sales

inSitu Sales can be an excellent and cost effective option for distributors at any level, including those that either didn't have a full order management system in place, paid for expensive ERP/accounting software with imperfect integration, or are looking to start fresh and build out. Our sales order software is built around prioritizing the added value distributors can offer customers for a competitive edge, while still taking precautions to ensure our software can be customized to work for businesses with more particular niches, as a true solution for everyone.

Features Rooted In Accessibility

Managing orders efficiently doesn't have to be overly elaborate, or require exorbitantly expensive 'premium software licenses' with features your business will likely never need, or use.  We start with understanding the features most important to our users, set fair pricing points below our competitors' rates, and continue to develop and make changes based on the evolving needs of our users. Users are held to the subscription cost they originally joined with, and updates to incorporate new features and functionality are typically free to encourage businesses to continue trusting us as a sustainable path towards expansion.

Two of the most immediate features sales reps can benefit from are being able to set orders to pend approval and building unique customer lists to assign segmented catalogs, reorder forms, and favorites. Requiring approval gives reps the convenience of reviewing orders from anywhere for faster acceptance, and more control over the changing flow of inventory during a sales period, while customer lists can do everything from suggest potential upsells, to building faster reorder points. Both result in fostering stronger customer satisfaction and optimizing order flow for faster turnaround. For more information on how inventory is tracked once picked up by drivers, or how available stock levels are automatically monitored, check out our previous blog from last week on inventory tracking software.  

Any software accountable for handling sales orders should also provide progression that managers can easily track, with confirmation and receipts at every phase of the cycle, on top of guaranteeing orders can't be forgotten once entered into the pipeline. Integrated payment processing gives customers options for fulfilling invoices in the most beneficial way possible, and can all be tracked together (this even includes customers who chose to pay with partial payment in phases). Reps can view their History on the mobile app and see which invoices still need to be paid, and how they were paid, if not by card. Outstanding orders will remain visible on the web portal as well as on any reports generated, so sales teams never need to waste time struggling to track different payment methods on a single dashboard. Freeing up this time is a convenience to reps who need to move onto new orders, and to customers who might question future transactions if their past payments are questioned.

Integrations For Order Fulfillment

Order fulfillment is a cluster of features describing stages inventory undergoes at warehouses to prep for shipping. Normally these fall under the umbrella category of WMS (warehouse management systems), as well as some ERP/accounting software. The problem with this approach is that the average WMS lacks the direct sales utility of apps meant for reps, and starts at a drastically steeper price point, with even most starter WMS costing $1,000's/month. This alone disqualifies it as a viable one-size fits all solution for the distribution market, but unfortunately even smaller companies must rely on some form of WMS for running orders through warehouses. For these reasons, the most popular option is to utilize the order fulfillment features that are bundled with leading ERP such as QuickBooks, Fishbowl, ShipStation, Oracle, Netsuite, Zoho, etc.

Once deciding to sync your sales rep software and ERP, companies should plan time to carefully research how other users have rated established integrations. Even with major software providers you'll need to confirm that the specific features and data fields you're hoping to access are supported, and that reviewers have accepted it as satisfactory in its current state. Having the integration listed as an option doesn't ensure smooth transfer, and if a provider reports to be improving or developing it further, it's usually safest to move onto a more guaranteed platform with your investment rather than paying   First, remember that in a wide majority of cases, costs for integrating your ERP are not reflected in initial pricing and quotes, and are usually added in as a charge at the last step. Unfortunately, rates for this relatively simple addition can be surprisingly costly depending on the ERP and intended usage of the app. If the reported estimate for integration costs seem low, make sure to ask about any 'one-time setup/startup' costs, as that's another popular hiding place for heavy upfront investments.

Mirroring our approach to other aspects of business, inSitu Sales does not charge either integration, or setup costs (with the exception of SAP B1 which costs a one-time fee of $500). integrates with most major accounting software and can take support requests to add new ones as needed on a custom quote, but here are the primary 3 we currently support that are recommended due to their ability to prioritize fulfilling orders.

Fishbowl and ShipStation

To assist warehouses with order fulfillment, inSitu Sales partners with both Fishbowl and ShipStation to handle everything from importing the order to your warehouse, to helping workers pick inventory, printing the automatically configured shipping labels with product info, and finally sending out the notice for pickup by FedEx, USPS, UPS, or DHL. While the supported features of the integrations won't allow for achieving automation, they present the best option for reducing required touchpoints per order, and optimizing the amount of time workers will need to devote to fulfilling. When both factors are taken into account together, either integration when synced with inSitu Sales is capable of providing the level of sales order management required for handling a larger number of orders while minimizing overhead costs needed for accommodation.

Both integrations are fairly priced and should be an accessible option for the majority of companies, however, we would recommend ShipStation as a better option for small to medium sized businesses with a stricter budget. Starting at just $9/month, there aren't any reasons not to try implementing them into your business structure. For users of QuickBooks with a larger inventory to monitor, Fishbowl would be the better choice due to its direct integration as one of the top inventory software available on QuickBooks. For that level of activity and frequent transactions, it's much safer to simply import your inventory from Fishbowl onto the inSitu Sales app. Doing this would also allow users to still benefit from the many additional features available on Fishbowl Inventory that aren't currently compatible with inventory options on inSitu Sales.