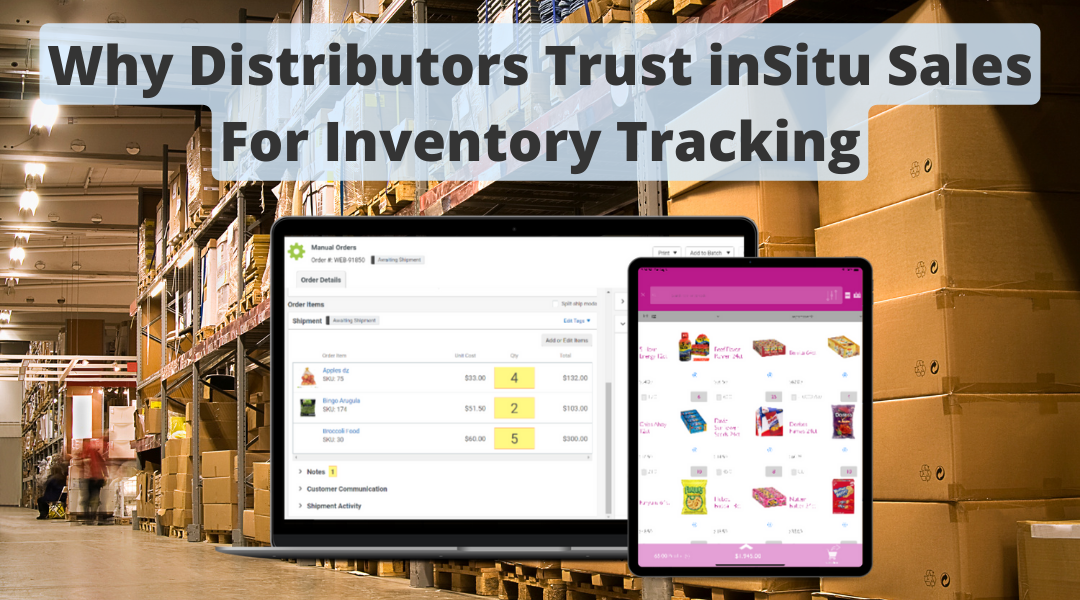 Why Distributors Trust inSitu Sales For Inventory Tracking
What Is Inventory Tracking?
Inventory tracking covers a range of monitoring software designed to provide distributors with precise measurements dedicated to ensuring that the supply of available stock in the sales cycle is always equal to the demand. An inventory management system is always present and playing an active role during ordering, warehousing, fulfilling, and finally delivering. For wholesale distributors especially, inventory is a huge expenditure that requires consistent investments to maintain the flow of orders, while also being the single biggest operation that streamlining can make the biggest impact on maximizing sales efficiency (time-to-order) and profit margins.
Why Should Distributors Rethink How They Manage Inventory?
Wholesale distribution as a whole is a fast paced industry, but now more than ever due to the surge of tech-innovations as well as global competition caused by Covid-19, as well as the wave of recent economic concerns. Infosys, a tech consulting company, conducted a survey to measure impacts and changes for distributors in supply chain operations. When asked to rank the top three areas to strengthen for preventing future disruptions following the pandemic, 39% of distribution execs listed Inventory Management as a pivotal concern tied for #2.
Derek Gittoes, V.P. of Supply Chain Management Product Strategy at Oracle, (another industry authority) wrote an article discussing his forecasts for the most vital accelerating trends that distributors will be expected to implement to keep up with best practices. Of the four specializations cited, two were directly related to inventory tracking; Transportation & Logistics, and Warehouse Management.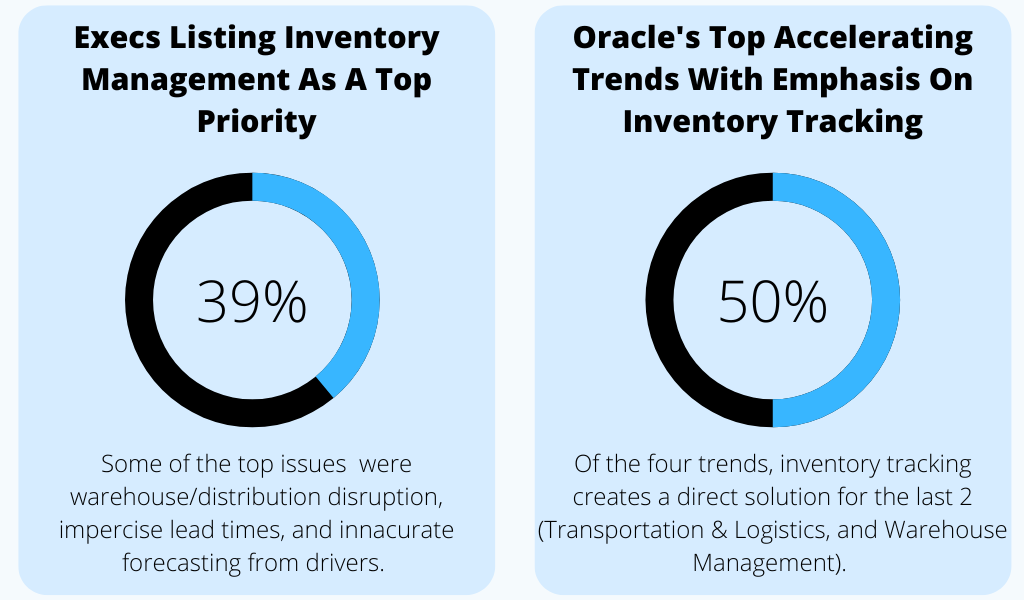 Potential Consequences Of A Poor Inventory Management System
A more in depth study from the APQC (American Product & Quality Center) found that when disruptive problems with inventory tracking occur, 49% of the time it will take at least a week or more before properly identifying problems with either the product or warehouse. These are costly delays that could damage customer relationships, or hurt trust in a distributor's ability to reliably deliver and maintain a set supplier schedule.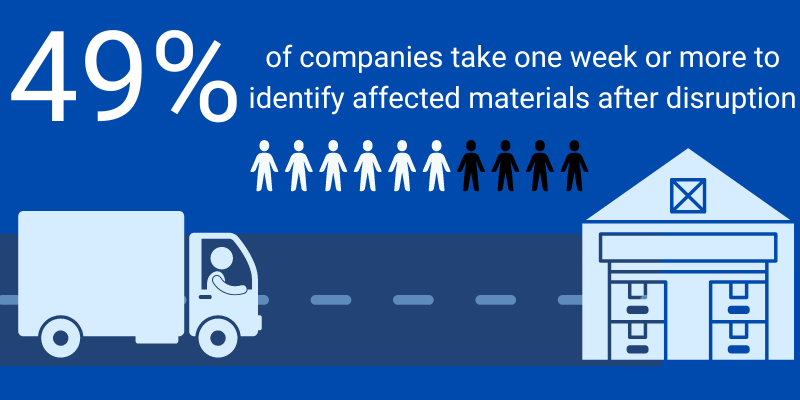 Some of the biggest problems are:
 Understocking – When a distributor is unable to fulfill a buyer's request due to a lack of sufficient inventory. Arguably the worst problem a sales cycle can face, since this presents a costly scenario where you have to win a buyer back despite the delays in restocking. inSitu Sales allows users to create multiple warehouses and assign reps in just a few clicks, so deliveries are always have a clear paper trail, are transported exactly when they're meant to be, and once ERP is synced, will maintain automatic updates to keep available stock precise.
Overstocking – In contrast, it's also a costly problem to hold onto unaccounted for extra inventory that wasn't needed for a sale. Due to fluctuations in specific product shelf-life or popular buyer trends dictating timely demand the stock already has a soft expiration date. The other concern is that holding onto it means taking up valuable warehouse space that could have gone to other products, or will get in the way of operations. Luckily, when using inSitu Sales, our app's automatic sync means creating an order
Loss Of Forecasting Analytics – One of the most important background functions of inventory tracking is allowing your software to gather sales analytics so over time you can begin to predict trends in buying to build forecasts. Distributors must have the tools they need to properly leverage historical data and make informed decisions for the future if they want to continue to be a competitive presence in the market. We offer Enhanced Sales Analytics as another potential license you can use with your app. Unlike with the app however, users only need 1 license for their company and it will be effective for use on the entire team's data!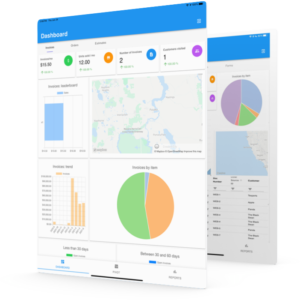 How inSitu Sales Improves Inventory Control
Sync With Top Inventory Integrations
Insitu Sales allows companies to instantly sync with either ShipStation and/or Fishbowl to accomplish a more effective order fulfillment and shipping process. This sync will confirm that orders won't be placed without proper inventory to fulfill it, and will give managers options for automatically reordering when inventory is low. When available stock hits a certain point, new inventory will automatically be reordered without the need for manual action. Fishbowl uses a negotiable one-time flat rate subscription fee (better for distributors looking to settle into a permanent decision with an already built out process), and ShipStation offers month to month subscriptions as low as $9.99/month.
Once synced, select which warehouse you would like to use for the orders, then move log into your account on the selected software to handle:
Picking – The app helps your warehouse easily locate products to fulfill the order and determine the total stock available. While reorder points should prevent issues with quantity, picking confirmation provides more confidence in creating a disruption-proof trail.
Packing – Receive information on the various options available for how your warehouse can pack the orders, and assists in arranging multiple orders or kits.
Shipping – For distributors without their own delivery system, both software integrate orders directly with USPS, FedEx, and UPS, sending out a notice when packages are ready for pickup.
Timestamps and Updates For Sales Reps & Drivers
Our dashboard allows admins on the web portal to assign warehouses and inventory lists to specific sales reps and drivers for a more direct overview with check-ins. Once reps 'clock-in' on the app and note that the timer has started, they're ready to begin their route, knowing that automatic syncs will periodically occur throughout the day between the app and their ERP/accounting software. Every stop they make is time-stamped and reflects an update of available inventory for orders they still have in their truck or van. This process lets managers match products to orders handled, and pinpoint where a disruption occurred if numbers don't match accordingly. The other benefit of having timestamps on routes is having direct knowledge of where reps and inventory will be at specific times, when a route should be completed, and being able to tell if complications occurred between stops if any slowdowns occur.
Upcoming: New inSitu Inventory App
To further cut down on steps our users will have to take to securely handle warehouse processes and confirm inventory shipping, inSitu Sales is launching an upcoming app called inSitu Inventory. This app will be a direct tool for optimizing processes for pickers fulfilling orders and reporting within warehouses. This will be an option for distributors not currently relying on either ShipStation or Fishbowl, but would still like to improve product organization, cut down on disruption, and boost faster fulfillment on sales.