A few things we're great at
Mobile invoicing, sales orders, estimates and payments on-the-go
Two-way sync with QuickBooks®, SAP and Xero.
Product catalog
Browse product images, see up-to-date warehouse inventory and price lists. Access product purchase history.
Delivery
Set delivery terms, add notes to it, capture signature.
Returns and Discounts
Enter returns as well as expired items, gifts and discounts.
Email invoices
Go paperless!!. Send invoices in PDF format with a fully customizable template
Routes & GPS Tracking
Location of the transaction is automatically recorded.
MOBILE PRINTERS AND SCANNERS
Connect it to a variety of
accessories such us DEX invoicing, printers, scanners and card readers
Thermal, ink or laser printers are supported, For specific models of the following manufacturers please check the printer specifications and make sure is compatible with your device (iPhone/iPad, Android). Zebra®, Bixolon®, AirPrint enabled printers such us (Epson, HP).
FREE TRIAL
SCHEDULE DEMO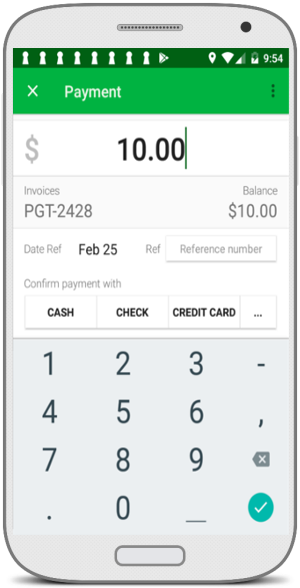 Receive Payments
---
Access your customer outstanding balance and open invoices.
Receive full or partial payments with cash, check or credit card payments. For credit card transactions you can key-in the card or use a magtek card reader.

Connect your gateway account to start taking credit card payments in the field. Supported gateways: Stripe, Authorize.net.